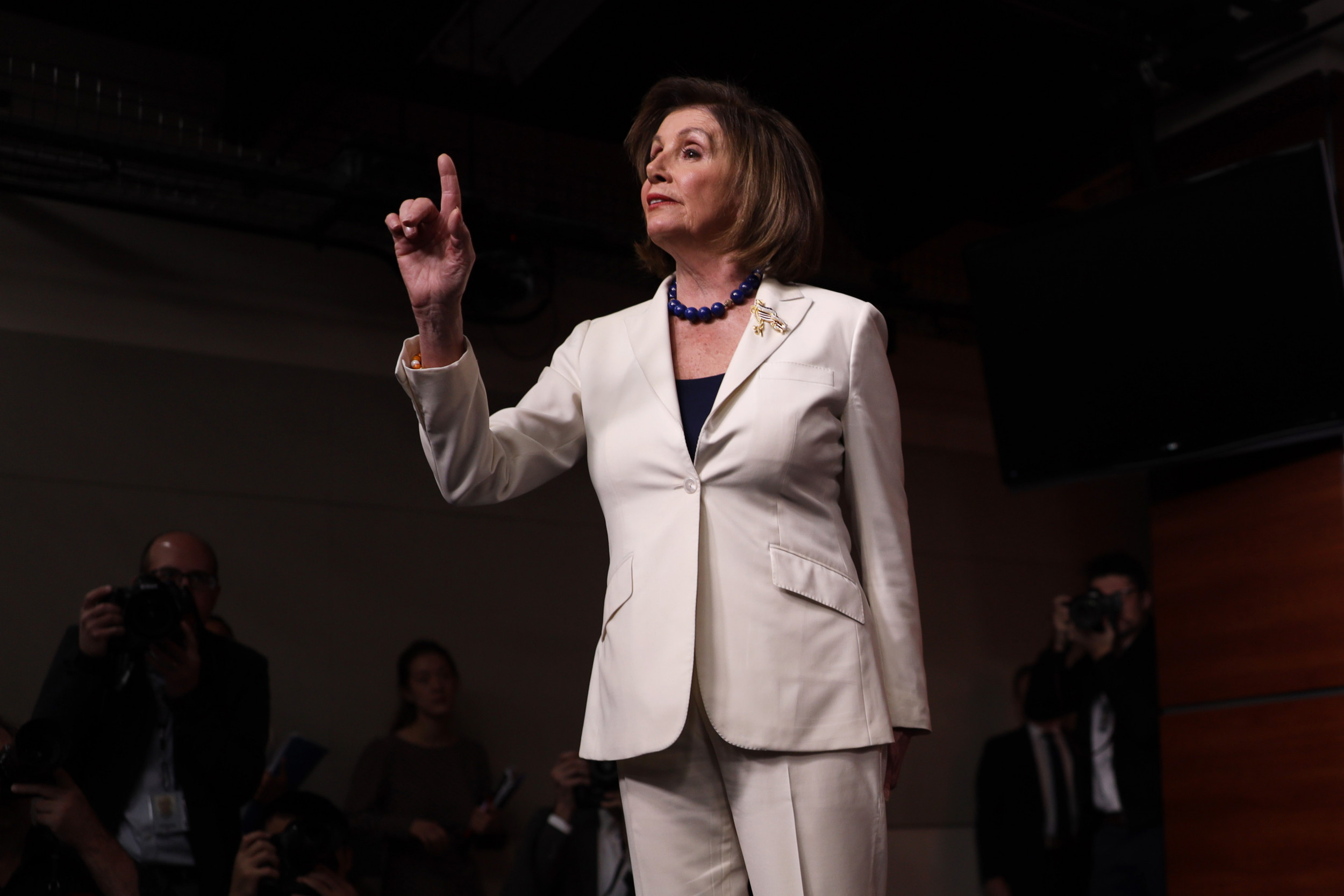 Nancy Pelosi's recent fiery rebuke of a reporter appears to have inspired her team to capitalize on the moment and start selling merchandise bearing the words: "Don't mess with Nancy."
The Speaker of the House announced on Thursday morning that she had instructed the Judiciary Committee to write articles of impeachment against President Donald Trump for pressuring Ukraine to investigate rival Joe Biden.
But when a reporter asked the California Democrat if she hates Trump as she was on her way out of the news conference, she stopped to deliver a terse response, jabbing her finger at the audience, before telling him: "Don't mess with me."
The moment lit up social media and the hashtag #DontMessWithNancy began trending as millions viewed videos of the heated exchange. Now, Pelosi's campaign appears to be taking advantage of the viral moment.
The Pelosi for Congress online store is selling a white crewneck sweatshirt for $39 with "Don't mess with Nancy" written on it.
The sweatshirt, available in sizes XS to 3XL, is described as unisex and made in the U.S. However, buyers are warned that the item is on pre-sale and won't ship for two to three weeks, meaning it won't arrive before the holidays. The Pelosi campaign has been contacted for comment.
"The president's actions have seriously violated the Constitution," Pelosi said on Thursday. "He is trying to corrupt, once again, the election for his own benefit. The president has engaged in abuse of power, undermining our national security and jeopardizing the integrity of our elections."
But as she headed out, James Rosen, a reporter for Sinclair Broadcast Group, asked, "Do you hate the president, Madam Speaker?"
"I don't hate anybody," Pelosi responded. She went on to accuse Trump of being a "coward" on gun policy, "cruel" when it comes to immigration and "in denial" about the Constitution and climate change.
"This is about the Constitution of the United States and the facts that lead to the president's violation of the oath of office. As a Catholic, I resent your using the word hate in a sentence that addresses me. I don't hate anyone."
She added: "I pray for the president all the time. So don't mess with me when it comes to words like that."
In a tweet, Rosen said Pelosi "erupted in fury" at his "simple, if pointed" question. Trump also responded to the encounter on Twitter, saying Pelosi had a "nervous fit." He added: "She says she 'prays for the President.' I don't believe her, not even close."