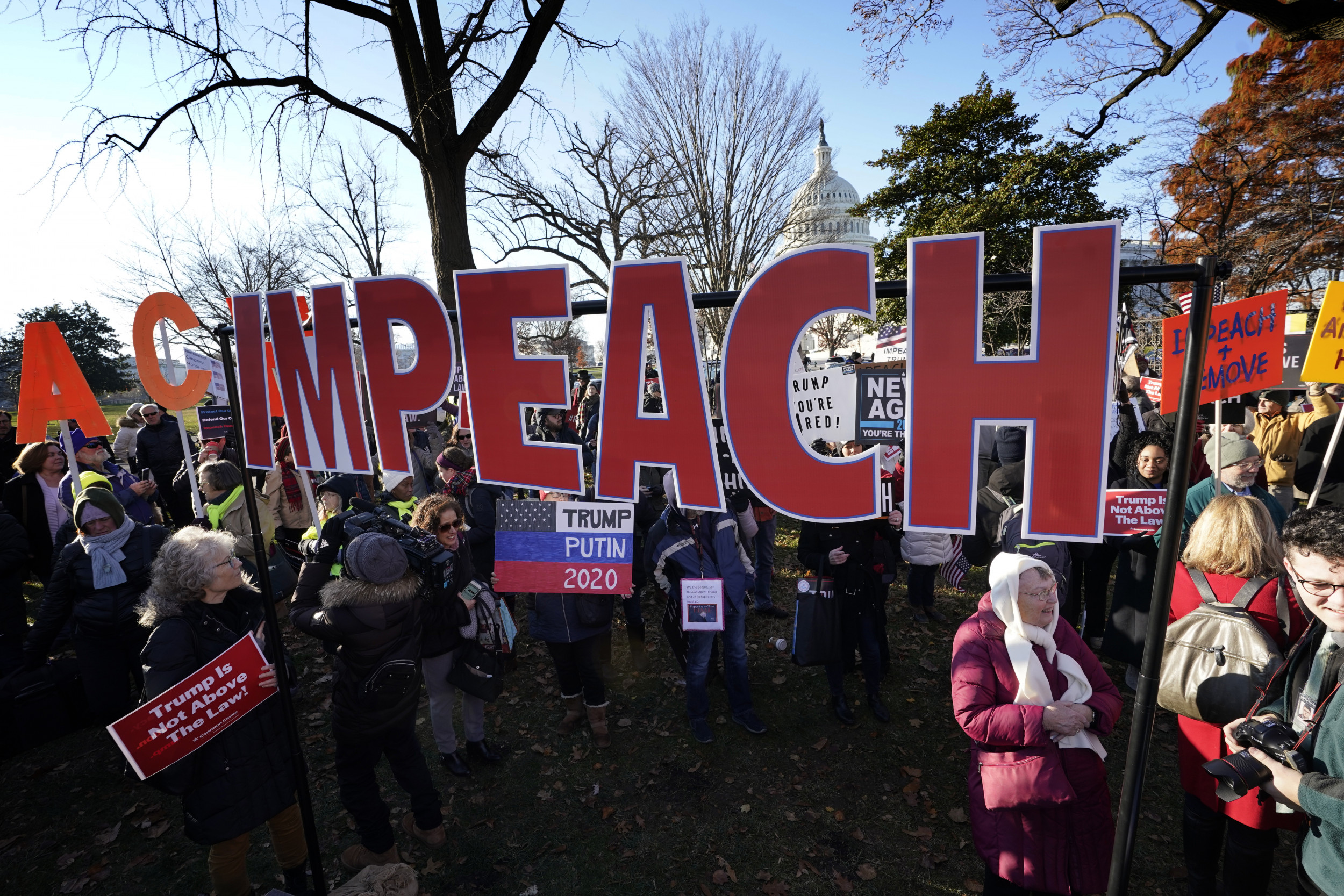 In a historic vote that made Donald Trump just the third U.S. president to be impeached by the House, a few Democrats broke from party ranks to oppose the formal accusation that he deserved to be removed from office for committing high crimes and misdemeanors.
The Democratic defectors were limited to Collin Peterson (D-Minn.) and Jeff Van Drew (D-N.J.), who will likely become a Republican, in addition to Jared Golden (D-Maine). Tulsi Gabbard (D-HI), who's also a 2020 presidential candidate, voted present for both articles, Golden voted for only the abuse of power charge, while Peterson and Van Drew voted against both articles.
Capping off a marathon day of partisan debate on the House floor, the lower chamber voted 230-197-1 on the abuse of power article and 229-198-1 on the obstruction of Congress article, officially impeaching Trump for his attempt to pressure Ukraine's president to investigate a potential political opponent while withholding foreign military assistance.
The partisan vote illustrated the political nature of the impeachment process. The party rebels weren't enough to stop the House from impeaching Trump, as Democrats corralled support from all corners of their caucus, including its most vulnerable members who hail from pro-Trump districts.
The mostly party-line vote featured an extraordinary split screen: Trump taking the stage at a Michigan re-election rally while the House was impeaching him in Washington.
Zero Republicans crossed the aisle to vote with their Democratic colleagues, remaining unified in their position that Trump's actions did not amount to impeachable offenses.
Representative Francis Rooney had earlier signaled he was open to supporting the articles of impeachment. But the retiring Florida Republican said his decision to vote against them hinged on the Democrats' unwillingness to pursue the White House's cooperation with subpoenas in court. In addition, he said Trump's conduct involving Ukraine did not amount to impeachable offenses, despite being "inappropriate."
"The process should not be rushed or based on an artificial timeline, nor should it be partisan or incomplete," Rooney said in a statement. "[T]he President's behavior, while inappropriate, was neither criminal, nor does it rise to the level of justifying impeachment."
Justin Amash, a Republican-turned-independent representative from Michigan, voted for both articles.
"'The republic for which it stands' is what we are here to talk about today. A republic, if we can keep it," House Speaker Nancy Pelosi said from the floor with her right hand over heart, next to a poster with an American flag. She sported a black dress, symbolizing the feeling among Democrats that it was a "solemn day."
"If we do not act now, we would be derelict in our duty," Pelosi continued. "It is tragic that the president's reckless actions make impeachment necessary. He gave us no choice."
Wednesday evening's vote enlisted Trump into the exclusive club of American presidents impeached by the House, joining Andrew Johnson and Bill Clinton.
On the eve of the vote, Trump wrote a six-page letter to Pelosi, unleashing his frustration and anger against the speaker, whom the president accused of "opening war on American Democracy."
GOP Senators Who Could Force McConnell to Have Impeachment Trial Witnesses
Reiterating his irritation throughout the day, Trump railed against House Democrats on Twitter, asking his nearly 68 million followers: "Can you believe that I will be impeached today by the Radical Left, Do Nothing Democrats, AND I DID NOTHING WRONG!"
As members inside the building debated the articles, protesters rallied on Capitol Hill, most of whom advocated for Trump's removal from office. Their sentiment mirrored that of protesters who gathered in cities small and large across the country Tuesday evening.
The prominent liberal advocacy group Need to Impeach, founded by billionaire and 2020 Democratic presidential candidate Tom Steyer, even dispersed handheld mirrors to dozens of lawmakers' offices. The intent, the organization's leader told Newsweek, was for senators and representatives to "look at yourselves in the mirror and ask: How much is too corrupt?"
The House will now need to name impeachment managers, who will present the case for Trump's ouster to the Senate. But questions linger over when that will be accomplished, and how a Senate trial will proceed, as the upper chamber's leaders debate how to operate the proceeding.