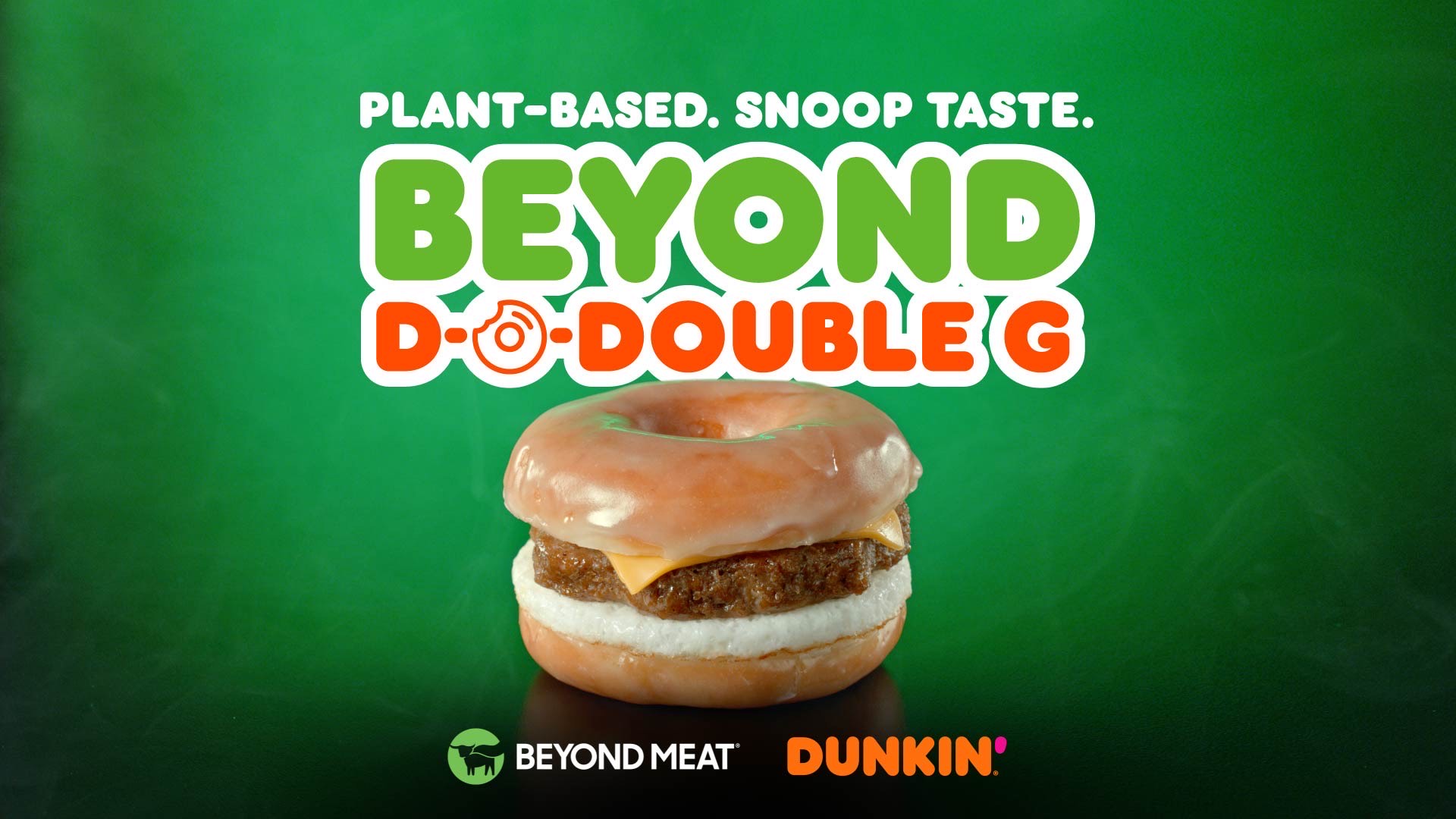 Dunkin' has teamed up with Beyond Meat ambassador and the company's employee of the month, rapper and music artist Snoop Dogg, for a new plant-based collaborationthe Beyond D-O-Double G Sandwich.
Giving a new meaning to "drop it like it's hot," guests can order this sweet and savory remix of Dunkin's Beyond Sausage Sandwich for one week only, ending on January 19, 2020. The sandwich features a 100 percent plant-based Beyond Sausage patty with egg and cheese served on Snoop's favorite: a sliced glazed donut, the company told Newsweek.
Los Angeles-based Beyond Meat is one of the "fastest growing" food companies in the U.S. offering a portfolio of plant-based meat substitutes. Founded in 2009, the company creates products that simulate the taste, texture and other sensory attributes of popular animal-based meat products.
If the sandwich launch wasn't enough, Dunkin' will be debuting its The Beyond Collection by Dunkin' x Snoopa limited-edition online pop-up of exclusive apparel including a green tracksuit inspired by Snoop's outfit in Dunkin's newest nationwide commercial. Fans are also invited to Dunkin' for a "Beyond Bash" where they can get free samples of the Beyond Sausage Sandwich on January 24 and 25, 2020, from 8:00 a.m. to 10:00 a.m. local time at participating Dunkin' restaurants nationwide.
What is the Beyond D-O-Double G Sandwich?
According to Dunkin', guests can request a sandwich by ordering at the front counter or drive thru at participating Dunkin' shops nationwide until January 19, 2020.
Dunkin' launched its Beyond Sausage Sandwich across the country in November 2019, making plant-based menu options easily accessible to Americans everywhere. Offering the delicious taste and texture of a juicy, savory breakfast sausage patty, Dunkin's Beyond Sausage Sandwich features Beyond Meat's breakfast sausage patty made with 100 percent plant based protein and a mix of spices crafted specifically for Dunkin'. Ounce for ounce, compared to a traditional pork breakfast sausage patty, the Beyond Breakfast Sausage patty at Dunkin' has more protein and iron, 44 percent less saturated fat, 50 percent less total fat, 37 percent less sodium and no cholesterol.
The Beyond Collection by Dunkin' x Snoop
Dunkin' and Snoop Dogg have also collaborated on a limited-edition online pop-up shop that will debut later this month, the company told Newsweek. The Beyond Collection by Dunkin' x Snoop will offer exclusive apparel such as a green tracksuit emblazoned with the words "Glazzzed for Days" on the back, joggers featuring Dunkin' and Beyond icons and the word "Glazzzzy" down the leg. There will also be a bomber jacket, sweatshirt, t-shirts and a beanie.
The official launch date is yet to be confirmed.