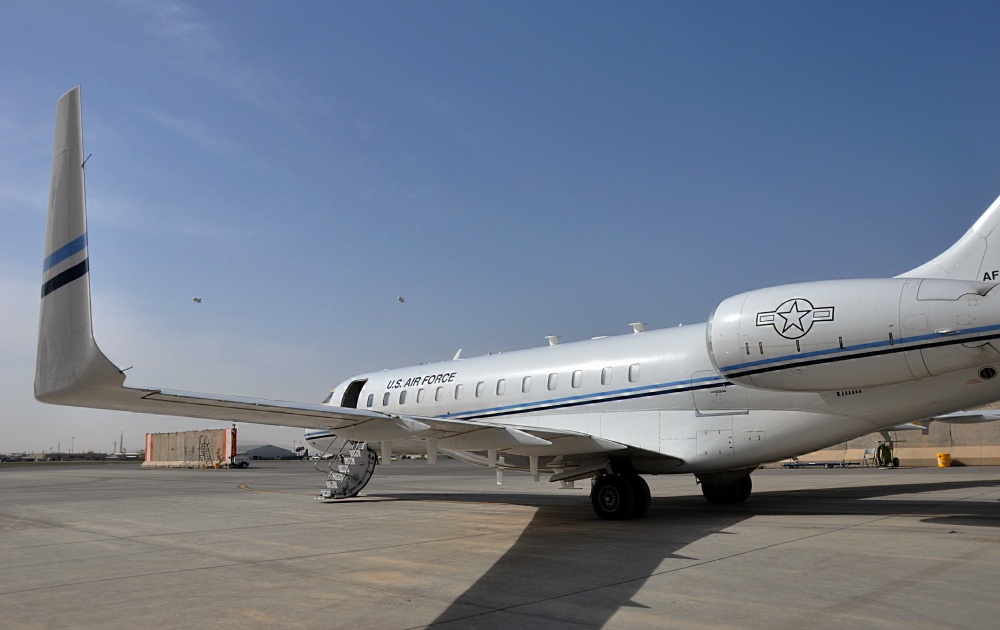 U.S. Special Operation Forces recovered two sets of remains from the wreckage of a U.S. military aircraft that crash-landed in Taliban-held territory of Afghanistan, Newsweek has learned.
Members of the elite Naval Special Warfare Development Group, more commonly known as SEAL Team Six, secured the crash site on Tuesday in the Deh Yak district of Ghazni province, located in central Afghanistan, just south of the capital. Two bodies were recovered and brought back to an undisclosed military installation along with a flight recorder, a U.S. defense official told Newsweek. Connecting Vets radio first reported the SEALs involvement Tuesday.
The SEALs destroyed what was left of the aircraft with explosives before moving out of the area, a common practice for special operation forces to prevent sensitive equipment from being captured. A follow-up airstrike may occur if commanders determine too much of the aircraft remains intact, the official said.
A quick-reaction force made up of U.S. and Afghan Special Forces were placed on standby to support the Navy SEALs if needed, the official, who spoke on condition of anonymity, added.
The human remains were recovered from a U.S. Air Force E-11A assigned to the 430th Expeditionary Electronic Combat Squadron based out of Kandahar Airfield, about 178 miles southwest of where the plane crashed.
The mayday call went out while the aircraft was at 42,000 feet, which is considered to be cruising altitude. The plane crashed around 1 p.m. local time on Monday, a U.S. defense official who was briefed on the details of the crash told Newsweek.
Arif Noori, a provincial government spokesman, told CBS News the plane appeared to have been flying between Kandahar in the south and Kabul in the north. Ghazni province falls between those two locations.
"The crash is under investigation, there are no indications the crash was caused by enemy fire. We will provide additional information as it becomes available," said U.S. Army Colonel Sonny Leggett, a spokesman for U.S. Forces-Afghanistan on Twitter. "Taliban claims that additional aircraft have crashed are false."
While it is not immediately clear what caused the plane to crash, U.S. officials told Newsweek that one early working theory is that bad fuel could be the cause, but added that further investigation would be needed. One U.S. defense official also told Newsweek the pilot of an A-10 Warthog reported fuel-related problems on Monday.
Some aircraft in Afghanistan were grounded after the crash for safety testing, according to standard Defense Department procedures. As of Tuesday, regular flight schedules had resumed.
The Taliban claimed responsibility for bringing down the U.S. military plane, saying they killed many American service members, including high-ranking members of the Central Intelligence Agency. The militant group often exaggerates or fabricates enemy casualties in their battlefield claims.
Contacted by Newsweek on Monday, the CIA declined to comment.
The deaths of potentially more U.S. service members comes as American and Taliban negotiators appear to be on the verge of striking a peace deal in Qatar.
President Donald Trump's visit to U.S. troops on Thanksgiving restarted negotions, and since then, U.S. special representative for Afghanistan Zalmay Khalilzad has been working to reduce violence in the region ahead of a peace deal.
The talks were put on hold in December after the Taliban attacked Bagram Airfield. Khalilzad condemned the assault on Twitter, saying "[the] #Taliban must show they are willing & able to respond to Afghan desire for peace."
Earlier this month, a roadside bomb killed two U.S. service members, U.S. Army Staff Sergeant Ian P. McLaughlin and Private First Class Miguel Villalon, in Kandahar province. Both soldiers were assigned to the 82nd Airborne Division out of Fort Bragg in North Carolina.
More American service members died fighting the Taliban and other insurgent groups in 2019 than in any other year since 2014 after the United States marked the end of combat operations in Afghanistan. Twenty were killed in 2019 alone.
More than 2,400 U.S. service members have died in Afghanistan since 2001, according to the website icasualties.org.