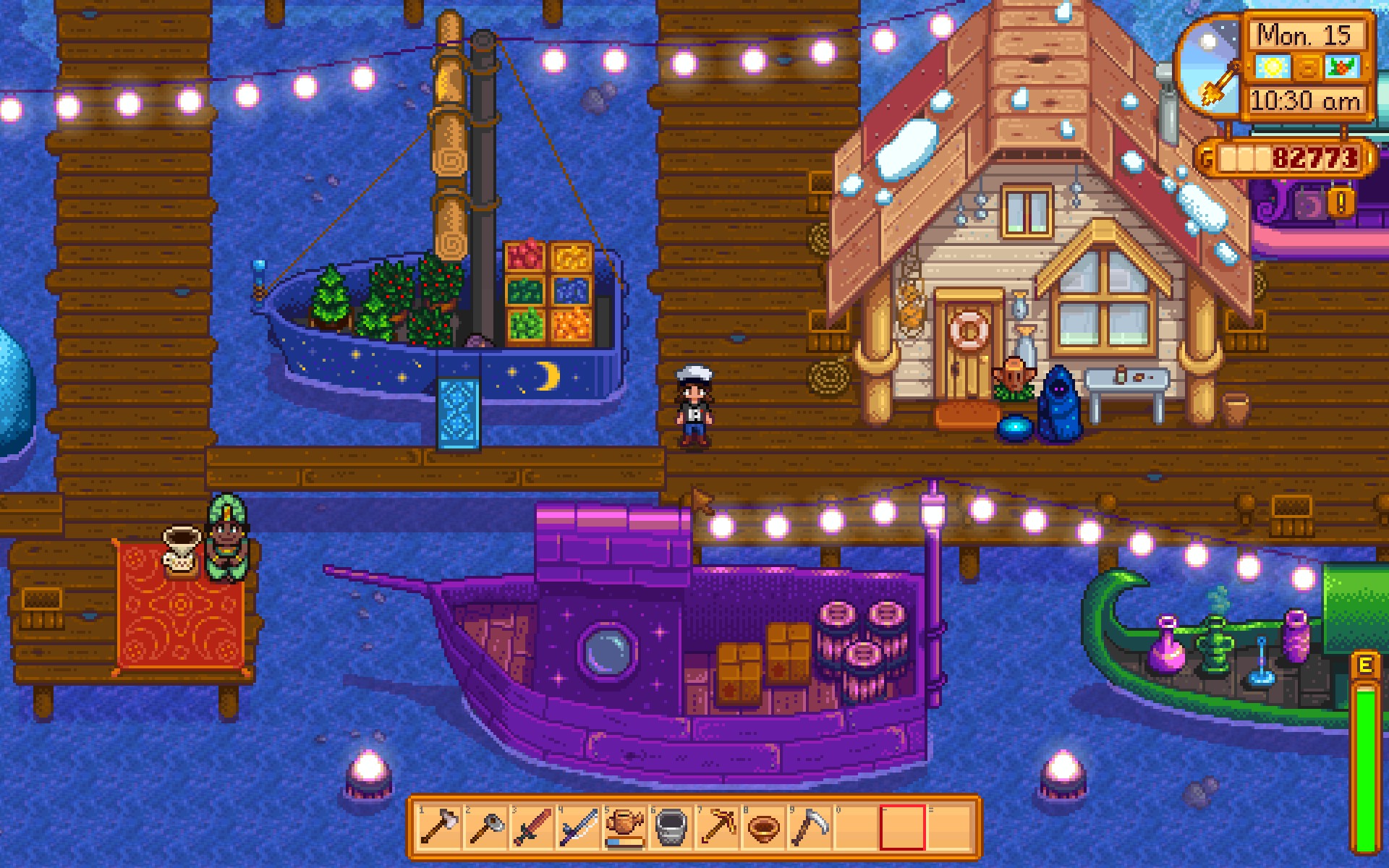 Stardew Valley creator Eric "ConcernedApe" Barone is working on multiple games connected to his landmark farming simulator. While Barone has previously announced development of his second game, which is not a farming simulator but takes place in the same "universe" as Stardew Valley, the developer said Tuesday he has "a couple of new projects," including a new tie-in with Stardew.
"Yes, I'm actually working on a couple of new projects. One takes place in the world of Stardew Valley, but is not a farming game. The other, I'm not 100 percent sure about the world yet, but it will tie into Stardew Valley in some way," Barone said in response to a question on Twitter.
Barone described both games to IGN as sharing a similar aesthetic to Stardew Valley, with pixel-art graphics and a top-down 2D perspective, describing the look as "familiar for anyone who has played Stardew Valley." He also confirmed both games would be single-player.
The first game, previously announced, will be "an ambitious project," which Barone described to IGN as fully conceptualized, with graphics twice as detailed as Stardew Valley, employing 32×32 pixel tiles instead of 16×16.
"I have pretty much the entire, polished idea in my head, and just have to put it into the computer," Barone said. "In general, I've been approaching this game with the goal to surpass the quality of every aspect compared to Stardew Valley… art, music, sound, narratives, etc… and I think I have been achieving that so far. I just have to put in the 1000s more hours of work necessary to finish it."
While Barone's next game is deep in development with a lot more work to go, the second described game is a more experimental creation: "a little thing to have fun with," which he is developing in "an organic way."
'Stardew Valley' PS4 Update Is More Than Multiplayer
So far no details are available on how the newly announced second project will be connected to Stardew Valley, since it's possible it won't even take place in the same world. Barone didn't respond to our request for additional details in time for publication.
"I see this blowing up," Barone said, about an hour after posting about the two ongoing projects tied to Stardew Valley, "all I ask is please don't get too hyped at this stage. I want to avoid too much hype or speculation. I'd like to just make whatever game comes naturally to me without too much pressure or expectation."
In a subsequent tweet he went on, describing how he is not trying to emulate the success of Stardew Valley.
"I'm not setting out to make the next indie smash hit, I just want to make another game that I enjoy and am happy with. And to share some of my art and ideas with the world," Barone said. "If it becomes popular, I will be happy, but it's not my focus."
While no release date has been announced for either of the Stardew Valley creator's new games, Barone told IGN that he expects to reveal some of his upcoming work this year, "for sure."