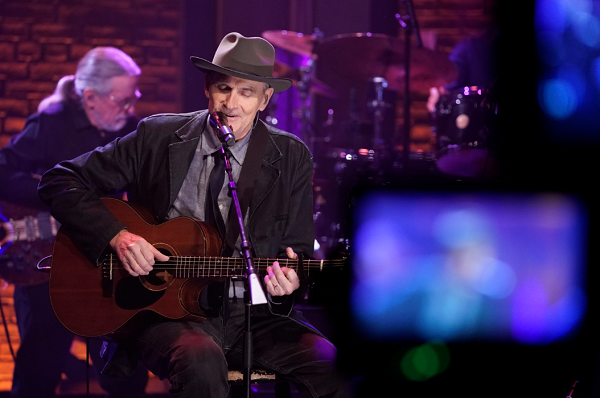 James Taylor took over the stage on Late Night with Seth Meyers on Thursday and performed his newest single, "Teach Me Tonight."
The classic song appears on the 71-year-old singer-songwriter's latest album, American Standard, which was released in February. A jazz classic originally written by Gene De Paul and Sammy Chan, "Teach Me Tonight" has been covered by many artists in the decades since its initial release in 1953, including Amy Winehouse, Al Jarreau and Aretha Franklin. The song also appeared on Frank Sinatra's 1984 record, L.A. is My Lady.
While on Late Night, Taylor gave the song a smooth acoustic update and performed it as a mellow ballad with the help of his guitar and a few backup singers. The legendary musician's casual attire seemed to nod toward Sinatra: Taylor was dressed in a wool felt fedora that could have come straight out of Ol' Blue Eyes' closet.
Taylor's appearance onstage marked the first of what will be many performances; he's set to go on a tour across North America with Jackson Browne over the summer, after taking a five-year hiatus from performing. American Standard is the first bit of music Taylor's released since 2015's Before This World. However, it's his 19th overall album, so he's been prolific in the past.
Comprised mostly of covers, the album is somewhat of an ode to Taylor's youth and the mainstream folk music he grew up listening to that inspired himand many other artists of his generationto become a musician.
"When I was a kid I loved that music. I got an attitude about it when I was sort of a teenaged musician myself, but these songs taught me a lot," Taylor explained. "Just learning to play them on the guitar as a kid taught me the changes and taught me a lot about harmonies. There's a wealth of information there. And it seems likely that this iswell, I know it's the casethat Bob Dylan and Paul McCartney and Paul Simon, the entire generation of songwriters that I come from was also informed by this same music, these standards."
American Standard also comes following the release of Taylor's audio memoir, Break Shot, in which the Rock and Roll Hall of Famer details his life story, starting with his childhood in Chapel Hill, North Carolina, and continuing on to the recording of his classic '60s tune "Carolina in My Mind" and his relationship with The Beatles, among many other memorable moments.
Taylor hits the road with Browne beginning on May 15 in New Orleans with stops all across the northern hemisphere until his final show in Camden, New Jersey, on July 10.