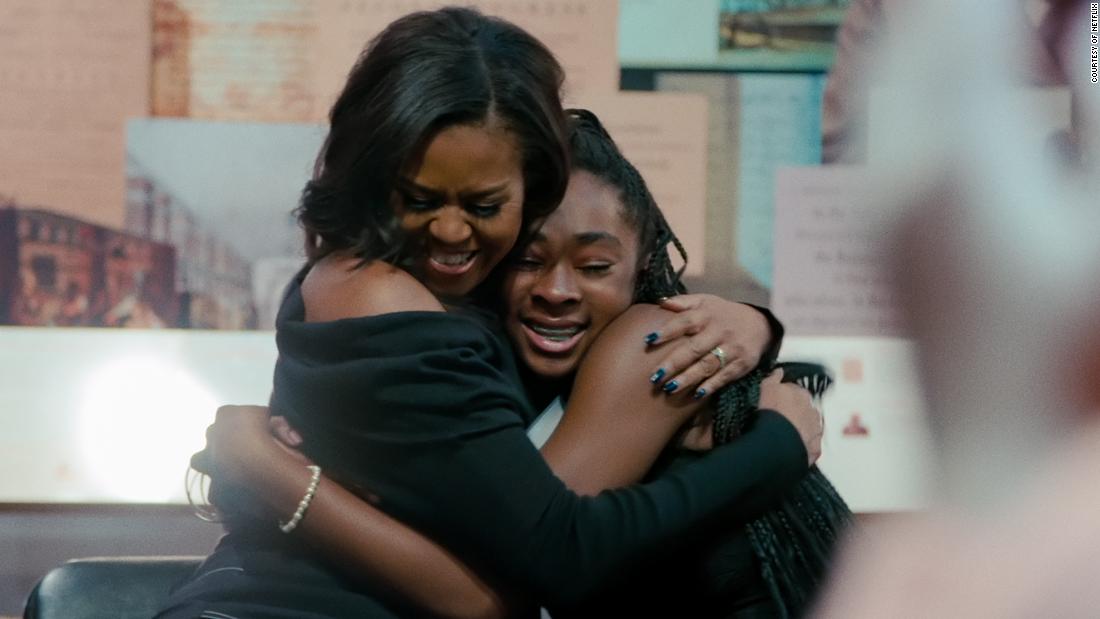 Melissa Bunni Elian has worked as an independent visual journalist since 2013. Her work focuses on recentering people on the margins of society, culture from the African Diaspora and structural inequality. She received a photography commission from the Obama Foundation in 2018 and is currently working on her master's degree at Columbia Journalism School. The opinions expressed in this commentary are her own. View more opinion articles at CNN.
(CNN)On Saturday, audiences across the world logged onto Twitter and Netflix to take part in the official global (and quarantine-friendly) watch party for Michelle Obama's new documentary film, "Becoming."
Tens of thousands of tweets, with the hashtag #WatchBecoming, exchanged emotional testimonies, quotes, expressions of gratitude and even GIFs. The outpouring pushed the hashtag to be a top trending topic in the US.
The Netflix documentary follows the former first lady on a book tour promoting her 2018 autobiography by the same title. The book is a personal narrative that delves deep into moments that shaped Obama as an individual and life lessons she processes as she begins the next phase of her life outside of politics.
In the film, we get to see Obama reflecting on growing up in a working-class family from the South Side of Chicago. She talks candidly about her late father, who was diagnosed with multiple sclerosis. We get to hear about the very first time she spoke to Barack Obama on the phone and how his voice gave her a bit of butterflies, her struggles with trying to find herself after motherhood, enduring negative comments on the campaign trail, 2008's election night and juggling simultaneous defining moments — like the memorial for the Charleston church shooting victims happening the same day as the Supreme Court's decision to legalize same-sex marriage in all 50 states on June 26, 2015 — during the Obama administration. Viewers heard about how the Obama girls spent their last night in the place where they called home for eight years: a sleepover. A testament to the pockets of normalcy that the former first lady tried to give her children during that time. And in the morning, Obama said she woke them up by saying, "Wake up, the Trumps are coming!"
During the watch party, viewers were inspired to share their favorite moments. People reacted to Craig Robinson, Obama's brother, always cracking a joke on his baby sister; and they shared stories about their own sibling rivalries. Many on Twitter identified with the stress of having to maintain perfection, which the former first lady expressed openly. They laughed when she talked about calling Barack Obama "a trifling black man" when he was late for their first meeting, and later Twitter users swooned over the rest of the Obama's love story.
Reviews for the documentary span the spectrum of opinion, much like the Obamas themselves. IndieWire called it "bland," while Forbes saw in it "lessons in leadership," and The New York Times called it a "routine" documentary that we would see with any megastar, showing the public "selective biographical moments and star-studded guest appearances."
This is all a matter of perspective, a truth that keeps the film's director and cinematographer Nadia Hallgren from ruminating on these voices for too long.
As a kid, Hallgren could be found watching documentaries and foreign films when she wasn't people-watching on her stoop in the South Bronx. She landed her first big break in 2004, working as a production assistant and camera operator with Michael Moore on his documentary Fahrenheit 9/11, and launched a career out of that opportunity. With dozens of credits and awards under her belt, "Becoming" is Hallgren's first feature-length project.
Hallgren and I first met years ago at the Bronx Documentary Center when she came to mentor a cohort of newbies — myself included. There she taught me that each shot and editing choice is a wink or a nod that all points to the underlying intention of a film.
On Friday, before the global watch party, I joined Hallgren for a virtual discussion on the filmmaking process. We not only discussed the meditative practice behind her elegant cinematography, the importance of ordinary things and waiting for magic, but also filmmaking in this era of disinformation and documenting the vulnerabilities of everyday folks and the powerful alike.
Answers have been edited for length and clarity.
Melissa Bunni Elian: What was the working relationship like with Michelle Obama? From her writing, we know she understands story, how single moments come together. This film is about the power of coming to terms with one's past and the formation of a personal narrative. How did this influence, if at all, how you worked together?
Nadia Hallgren: I think that she appreciated and understood the process. To the extent that we, as filmmakers, ask for a lot from strangers, she was okay with it. She would even suggest things or let me know events that were happening in her life so that I could be there. As I assembled the film that I wanted to make –and eventually show to her — she was supportive of what we made with her own personal story, even giving me advice on how to deepen certain threads.
Elian: There's a critique that this film wasn't private enough. But the Obamas are private citizens. What boundaries did you juggle? What do you consider public in terms of what you are documenting and how do you balance that with what new information can be revealed?
Hallgren: We really did get unprecedented access to Obama and I think a lot of that is perspective. I think you can see it when we are filming in her hotel room as she's getting ready backstage. There are these really intimate moments between her and her staff. Even with her and former President Barack Obama. We also see an intimate moment with her and her daughter Malia. Considering someone can say something like "I've never heard Malia speak and I see her speaking in the film and she's saying something profound," I think it's a testament to the level of intimacy and access that we actually did get from this film. We are used to seeing Michelle Obama from far away, like we've never seen her that close up. She was just awesome with me. She's a very warm person and she's a hugger and likes to engage with people. It was really great! It never bothered her that I was that close to her.
Elian: In terms of the book and the documentary, how did you approach weaving them together? What did you want to preserve from the book in the film? Was there anything new you wanted to explore?
Hallgren: As I read the book, I did highlight stories that I thought were incredibly moving to me and thought about how those could be incorporated in the film. A lot of those played out on stage at her readings as well, so viewers learn her backstory. But we also wanted to make a film that was very different from the book. For example, when she's hanging out with her brother and he is teasing her about her outfit, I think scenes like that one are so telling because she's still someone's little sister getting teased. There was a tremendous opportunity to be with Obama in the moment that to me, as a verité filmmaker, is a real gift.
Elian: Something else that really stood out to me was the voices that we hear beyond Obama's. We have the superstar moderators, but then it seems to me that the most powerful questions actually came from the young adults who she spends time with. In terms of the films you usually make and the characters and their struggles, I felt like that the whole reason for the film was to get those voices out. Was that your intention? How did you think of weaving the big society voices with these future adults?
Hallgren: I like that you got that from knowing my past work. Just like you said, young people often ask the questions that the adults don't dare ask. That's the reason why Obama loves spending time with young people. They're so unguarded and unselfconscious and she enjoys that. That also provided for really great storytelling to get to some deeper places in what's happening in Obama's life right now. We go into those smaller settings and some of the questions get a little bit more intimate.
Elian: In one of several scenes where you focus on students, Elizabeth, a young Latina woman, describes her hardships when called upon to speak during a small meet-and-greet hosted for students throughout the tour. Obama then talked about turning those hardships into small triumphs. It seems like the films and the subject matter you usually take on have that same quality. Why are these stories important and did you know that you were going to tell that kind of story within the larger narrative?
Hallgren: There's something about the ordinariness of life that I find very special. I think that there's a real beauty in that and I like to focus on that a lot, especially as a cinematographer. I think there is so much humanity in those details that says a lot about people. Obama was traveling to tell her story, and hundreds of thousands of people wanted to hear it. And so with Elizabeth, when she shared her own story with Obama and they had this incredible connection, I wanted to go a little bit deeper. That was how that came about in terms of diving into those particular young women's backstories.
Elian: You're looking for the ordinary, but you're also seeing extraordinary things happen all around you. How are you piecing that all together, knowing what to capture?
Hallgren: My process of cinematography is very meditative. When we filmed at her childhood home, I filmed there with her and then I went back the next day — just completely alone so that I could be there by myself with no pressure and take in the space in a really thoughtful way. And I filmed quietly. That's when that beautiful shadow came over her father's chair and it really felt like he was in the room and that's the magic of photography and cinematography, especially when things aren't planned and they're not set up, stuff happens and then it's like this feeling of: I CAN'T BELIEVE THIS IS HAPPENING!! I try to just be in the moment and be present and eventually things will emerge that kind of speak to me. I was so close to Obama all the time. You know, I was thinking that at some point someone's going to be like "You can't be up on her like that." But no one said anything. You know, sometimes nothing happens for hours, but I think it's just the practice of being prepared for it.
Elian: This film addresses the issue of public scrutiny. Knowing the ways in which the Obamas face scrutiny, did you feel any difference in your sense of anticipation towards reactions to the film. Were you afraid some things might be misinterpreted from what you were capturing?
Hallgren: I honestly didn't know what to expect in terms of the level of scrutiny or anything like that. I stand by the film that I made. We worked hard to make sure that the film was cohesive and clear. We're telling a big story so there is a lot that goes into that process. Part of putting your work out in the world is for people to sort of take it and for people to bring their own life experience to it. I think that for all artists and filmmakers, it's something you have to be willing to do.
Elian: How do you view your role as a documentary filmmaker and the documentary format as a tool for learning, and the power of the camera, specifically in this era of disinformation?
Hallgren: As a kid, my world was so small. I loved seeing people in magazines, foreign movies and documentaries — any way that I could consume this idea of this bigger world and how people live differently. So I think that for me that was a way that I got information and I actually got more curious and interested in people. So I hope that the work that I do helps people's curiosity about each other and brings a level of understanding of complexity to the world. One of the biggest things I learned as someone involved in the lives of people is that we all go in with ideas and when those ideas get turned on their heads, that's probably the most exciting part of it. There is so much more behind things that I didn't know.
Elian: One line that stood out to me was when Obama said "What I experience in these arenas is the power of gathering," as we see her signing books and interacting with readers early on in the film. Everyone in attendance exuded energy. What was the feeling in that room and can you imagine that ever happening again post-coronavirus?
Hallgren: I hope so! It was so special! The energy in the crowd at Obama's events was tremendous, it was moving and overwhelming and it's what inspired me to want to capture the faces of people in the audience in the way that I did. I was so moved by all the different types of people, the ages of people. It was a tremendous energy that just felt monumentally special and it felt historic. I felt very lucky to be there. You can tell when people value something. People dressed in their nicest clothes and there was just this pact that came with just being in the room.