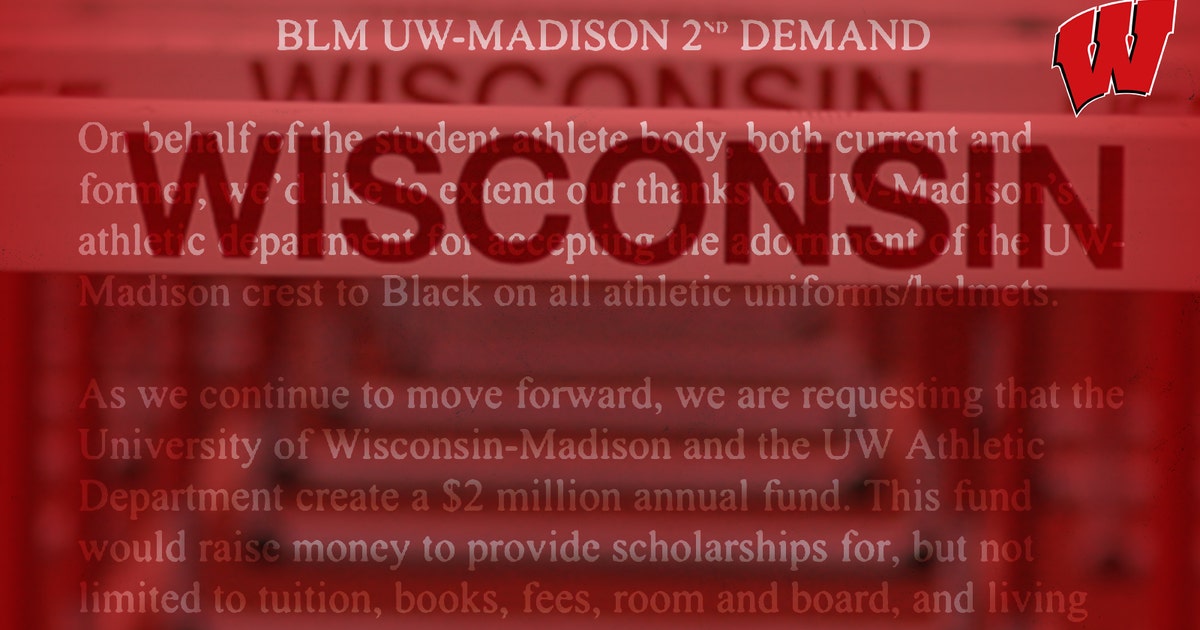 Its been one month since the University of Wisconsin agreed with a request from some of its student-athletes to put a patch with the university crest logo with a black W on its uniforms for upcoming seasons.
The university even announced it would put the black W on merchandise.
Since that proclamation, though, its been silent.
Everything is up in the air right now, said junior Armoni Brown, a long jumper and sprinter on Wisconsins womens track team, who helped spearhead the effort.
Brown said theres been no update on exactly how the patch on the jersey will work or where proceeds from merchandise sales will be funneled.
The uniforms are first then theres merchandise and then theres the second demand, Brown said.
Ah yes, the second demand.
Armed with a victory in getting the crest with a black W adorned on teams jerseys, the same students a group of roughly 30 student-athletes — posted another message on Aug. 3.
This one asked for a $2 million fund to be raised by the school to be channeled to people of color who are qualifiers through admissions but lack financial support. The purpose is also to increase diversity at the university, whose African-American student population is just 1.9%.
Our Second Demand. @[email protected]/1Ce8hzb1HL
— Armoni (@armoni_brown) August 3, 2020
Our initial thing was for the university to show their solidarity with their black athletes and people of color on their teams, and once we got that together we talked about, well, how can we get this campus more diverse, how can we get more people of color on this campus? Brown explained. And so our idea was to make a fund for people who qualify to go to the university but financially cant come.
Significant in the social media posting is the word demand a forceful word, which implies consequences if not agreed upon.
Brown said the use of demand was deliberately chosen and agreed it was a strong word choice.
It is a request, but demand gets the attention, she said. If they werent to approve this, there would be next steps we dont know what we would be taking but there would be next steps where if you dont approve or agree with what (we ask), there will be, I dont want to say consequences, but there will be some results. We wont stay silent.
Right now, though, its just the students doing the talking.
Literally no one has responded, said Brown of university officials. I wouldnt say anxious is the word, more like frustrated. Because its this group is trying to make this campus diverse and UW makes it seem like this campus is diverse, and its not. For them to sweep it under the (rug) and not bring it to light is kind of frustrating. Well probably bring that to light, too, that the university has not put anything else out about this $2 million fund.
When asked to comment on the social media post by the students, UW Athletics sent this statement to foxsportswisconsin.com:
Diversifying the staff and student population at UW-Madison is a stated objective of Chancellor Rebecca Blank and UW Athletics supports those efforts. Athletics remains in communication with the student-athletes and is working closely with DDEEA about their request for a fund that would assist in the diversification of the UW-Madison student population. We look forward to continuing to engage with student-athletes in productive conversation around issues that are important to all of us.
Brown knows the lack of communication could well be due to COVID-19 issues as well as the recent cancellation of Wisconsins fall sports, which include revenue-maker football.
This group is trying to make this campus diverse and UW makes it seem like this campus is diverse, and its not.
Armoni Brown
Nevertheless, she remains optimistic.
I am very hopeful. I know this thing will get approved, Brown said. Theres no way it couldnt get approved because this university is capable of finding ways to create this $2 million annual fund for people to come to this university. Im pretty sure this thing will get approved, no doubt about it.
The reaction to this latest salvo from Black student-athletes has been mostly positive, Brown said, who noted her group is also trying to get with the Black Student Union and other diversity groups to help with this issue.
The people I know, theyre excited about the $2 million fund just because that they know this campus is not diverse whatsoever (and they want) to make people of not only my kind but other people of color more comfortable at this university, she relayed.
There are, of course, negatives, too, some of which can be seen on replies to the tweet shown above.
The complaints range from where the university will find $2 million to the idea of being racist because theres not a fund for white people, and what would be the reaction is there was?
The purpose of this fund is for people who are able and capable of (going to this) university but financially cant, Brown explained. African-Americans are the majority of people who are low income and cant go to a university like Wisconsin. So, if this fund can help them and give them a chance and attend this university, why cant this university do it themselves?
While Brown is optimistic the plan for a fund will come to fruition and $2 million is just the low-end starting point shes also not numb to whats going on around her, at the university and the world. She understands the situation with COVID has played havoc with the universitys finances, especially with no fall sports occurring, and that will likely delay the starting of a fund. But as long as it happens, even if its two years from now, thats OK.
However, Brown would also like the dialogue between students and the administration to perhaps work a little more quickly. The students were planning on trying to discuss the topic this week but the Tuesday announcement of no fall sports put the kibosh on that idea at least for this week.
If the university happens to remain silent even in the short term dont expect the students to sit idly by and wait.
If we dont hear anything by this week, well for sure post something next week, Brown said. Well get peoples attention, no worries.