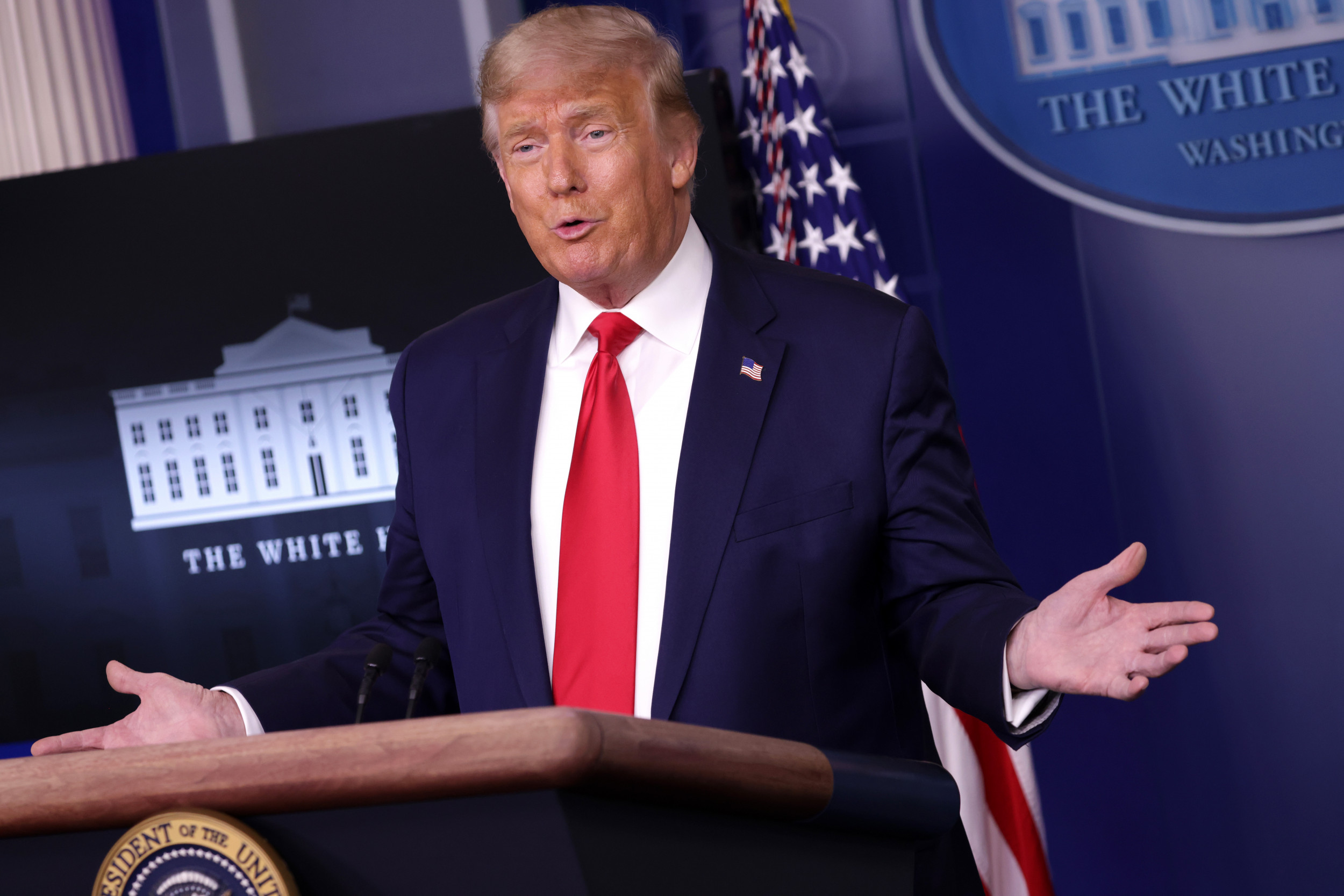 While Republican-led anti-Trump campaigns have gained traction ahead of November, polling shows GOP supporters are shifting in favor of re-electing President Donald Trump.
Efforts by groups such as The Lincoln Project and Republican Voters Against Trump have piled criticism on the incumbent, with him currently trailing Democratic presidential candidate Joe Biden in the polls.
Despite this, a CNN poll has shown the percentage of Republicans or Republican-leaning independents that said they might back Biden has halved since June.
In previous survey results the figure among them was 8 percent, while it is down to four in the latest numbers, from a poll conducted among 1,108 adults from August 12 through 15.
Get your unlimited Newsweek trial >
The movement in polling is concentrated among men, with them having been evenly split previously but since switching to support Trump more heavily, at 56 percent to 40 percent, CNN reported.
Trump's support among conservatives has also risen, with 85 percent having stated they will back him, compared to 76 percent in the last survey for CNN, conducted by SSRS.
The polling also saw a drop in Biden's overall lead, with this being at 14 points in a similar survey in June. July's results cut this down to a four-point advantage overall.
Newsweek has contacted the Trump and Biden campaigns, The Lincoln Project and Republican Voters Against Trump for comment.
Get your unlimited Newsweek trial >
Trump has faced stern backlash from groups whose members have formerly backed Republicans, with encouragement to back Biden in November.
The Lincoln Project, in a statement on its website, outlines: "Electing Democrats who support the Constitution over Republicans who do not is a worthy effort."
They outline that this is the matter at hand and that differences with Democrats on policy remain, but say "the priority for all patriotic Americans must be a shared fidelity to the Constitution and a commitment to defeat those candidates who have abandoned their constitutional oaths, regardless of party."
Just as Democrats Need Texas, It Seems Democrats Have Overlooked Texas
Social media has previously been awash with usually committed Republican voters explaining why they will not back Trump, after being asked to explain why by The Lincoln Project.
The group, led by former Republican campaign veterans, recently expanded their actions to target Latino voters in several states, with Florida, Arizona and Texas targets, as previously revealed by Newsweek.
The group previously described Biden as having "the humanity, empathy and steadiness we need in a leader."
Republican Voters Against Trump (RVAT) has similarly moved to encourage voters who do not usually back Democrats to do so in November, with a multi-million dollar campaign.
The group has previously branded Trump an "utter failure," with its political director Tim Miller having accused him of having "degraded the office of the presidency."